POWER RANKINGS 4 NOVEMBER (written by 'MotorMouth')
***The opinions expressed are solely my own and do not express the views or opinions of ETBL***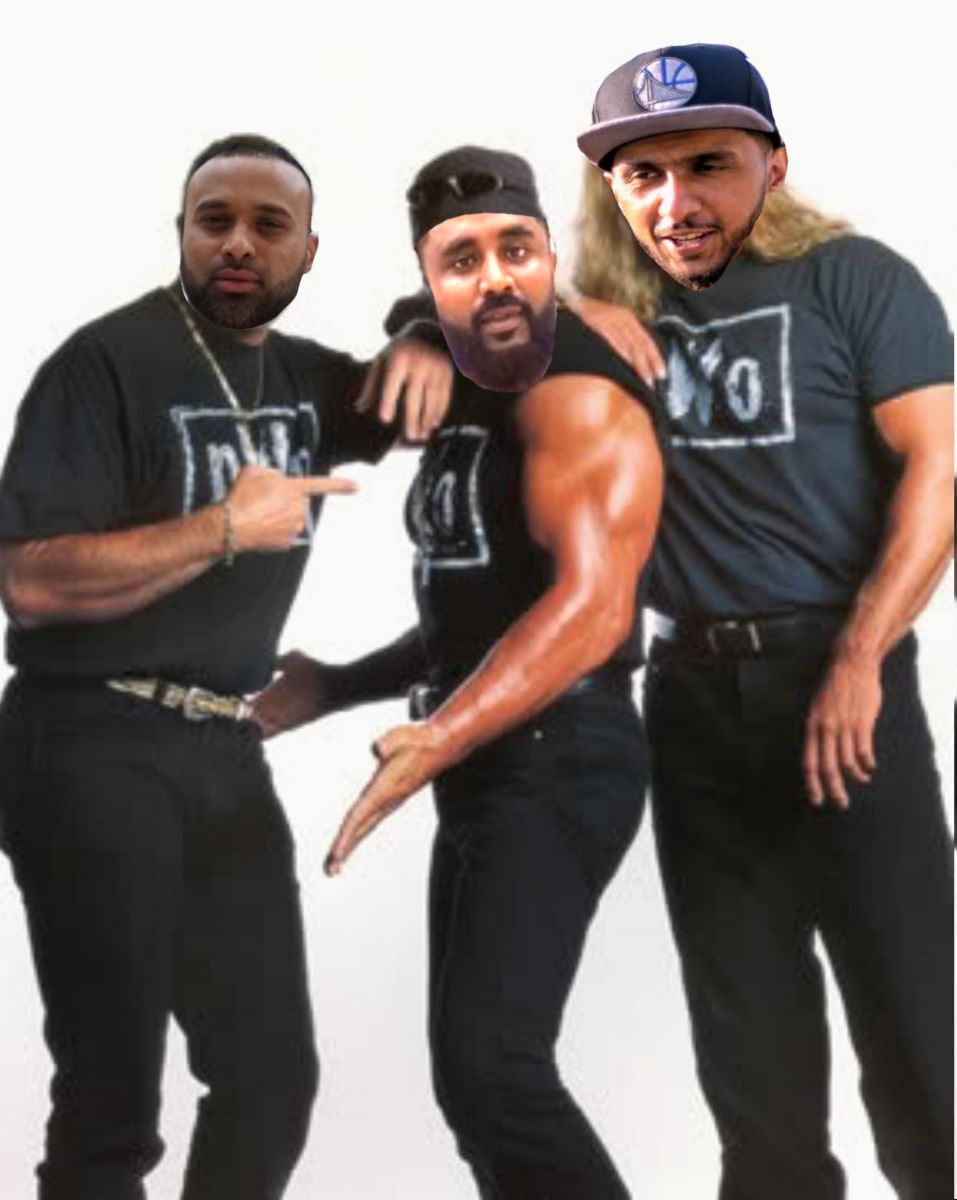 1. nWo WARRIORS: My favorite part about watching the Warriors play is the nostalgia it brings from some of my favorite childhood wrestling moments. These guys win 1 Championship and start behaving like they are the 'New World Order' of ETBL. The Warriors spend more time arguing calls with the refs rather than just playing basketball and they are really embracing their roles as the villains of ETBL. It's just a matter of time before Bahee smashes one of the refs on the head with the scorer's table. Like them or not, the champs are cruising along with their only loss coming to the Heat as Big Daddy Cool(Gopal) was a no show and left Scott Hall(Bahee) to get man handled by Milton(The Giant aka The Big Show) who layed the smack down on him. Hollywood Gautham has done a good job from the start forming this group and recruiting new villains every season. Anything but an appearance in the Finals would be deemed a disappointing season for the NWO.
2. PACERS: GM Vimal was practically gifted Akshay and Paolo as keepers by Commissioner Kisho Trump 2 days before the draft. Now, I'm not saying Vimal did sexual favors 48 hours prior to draft in order to get these players but I can assure you that Kisho Trump doesn't do anything for free. The 3-0 Pacers come in all shapes, sizes, ages, languages and colors. Team consists of Andrew Verescak who looks like he actually grew up at a farm in Indiana; an early MVP Candidate by the name of Akshay Vaishishtha who is also the best Kabaddi player in the Indian subcontinent; plus a tall lanky kid with a man bun who calls himself 'Machine Gun Ganen'. Pacers are the biggest and the oddest looking team in ETBL but I assure you this group of misfits means business on the court.
3. SIXERS: Soon......soon LiShin won't be playing on the Sixers. My sources indicate that GM Rahul's childhood friend is unhappy on the squad and is looking to jump ship as he was moved to the bench this season. Aside from friendships being broken, the Sixers are no joke. Rahul has all the right pieces on his team to be a serious contender. Rahul was quoted confidently shouting, "I will see you at WrestleMania", to the nWo Warriors to indicate that the Sixers will be at the ETBL main event aka The Finals. GM Rahul also has the biggest steal in the draft with Kevin Clerigo who is playing like a first Rounder. I'm not saying Kevin tanked in the draft but he is built like a tank coming down the lane and just bowling people over.
4. SUNS: I haven't had a chance to watch these guys play yet but the Suns are off to a healthy 2-0 start led by two young superstars (Abdul and Umaraj). They also have 2 solid big men in PJ and GM Jasinthan along with an Oscar winning actor by the name of Zanoon Ali. You may recognize him from such documentaries as, "How To Tank An ETBL Draft", "Inside Job", and "Pretend I Can't Dribble". He also starred in 'Wolf of Wall Street' where he gave Jso a small role as an account manager who always made bad trades...I know we should all be mad at GM Jasinthan for putting the integrity of the draft/league on the line but I really admire his rise to power. It would make an amazing ETBL documentary if he wins the championship with his "any means necessary" approach by kicking former GM Jso to the end of the bench, not drafting/keeping his former teammates and forcing his friend to tank the draft in order to overthrow the current champs from the throne.
5. PISTONS: One of the best defensive teams in ETBL as they have only allowed 60 points in their first two games. Pistons first round pick Krisoth has carried most of the workload (especially on offence) while second round pick Cameron still appears to be finding himself in the league. GM Sugee has yet to play a game this season with a mysterious "knee injury" and it will be interesting to see if he makes the team better by stretching the floor or will he be the Carmelo Anthony of the team with his inefficiency and lack of defence?
6. NUGGETS: With the Trade deadline soon approaching the only question is will GM Ray hold or fold on 'Drama Dylan'. Even though Dylan is a very talented player, I think GM Ray is having a hard time getting Dylan to buy into his boring structured system as both are always having heated discussions after their games. More than his performance, Dylan's attitude and behavior during his next few games will determine how long his tenure with the Nuggets will be. On the bright side, GM Ray still has 3 black guys on his team that are fully committed to his ideologies and for that reason alone they will always be serious contenders.
7. HEAT: GM Billal has been through a lot during his ETBL tenure and it seems like forever since he actually won a game. Last time Billal won a game was the same time the original 'Lion King' was released. His first round pick, Milton Laidley, is the new beast of the jungle and should be averaging more than 8 field goal attempts per game. Milton is practically unstoppable in the paint and it's unclear why the team hasn't been running every play through him. Billal was so ecstatic winning a game that he has offered free Raptors tickets to everyone at the All-star game; courtesy of Ticket Magnet.
8. BUCKS: Had High expectations for Chris D'Souza based on a picture I saw of him and his sleeve tattoo. But his shot appears to be a mystery (not sure if he had shoulder surgery in the off-season). He does look smooth when he drives to the basket, plays great defense and gets the job done on the boards. Also, it doesn't help that Vijith is 1-16 from 3pt line while Annojh has more sliding tackles than assists. Bucks are still contenders and I still expect them to finish in the top 8 as long as Annojh doesn't have to leave in the middle of games to go meet up with chicks from Tinder.
9. HORNETS: The Buzz around town is that GM Hari has been calling Nishan Thurai non-stop to check up on his injury and offering personal hot oil massages to help him heal faster. I was able to intercept a text msg convo between the two which I have posted below. Hornets only win comes against the bottom feeding Lakers so much cannot be said about the Hornets until Nishan returns to the roster (expected to return January 2019).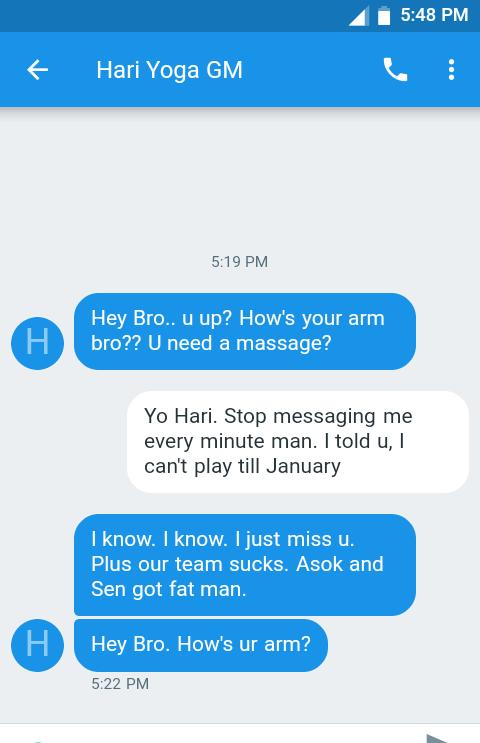 10. CAVALIERS: Apparently the Cavs were very upset at the cheeseburger jokes from my Preseason Power Rankings and ironically their jerseys ended up looking like the All-American Macdonald's Jerseys. Like I said on my original post the Cavs do look great on paper but these guys are all sizzle and no steak, all icing and no cake, all foam and no beer, all lime n' salt and no tequila…well you guys get the point. Arjun was not available for their last game as he was getting fitted for his new mascot costume and I was lucky enough to capture a picture of it. (I am just clowning dawg)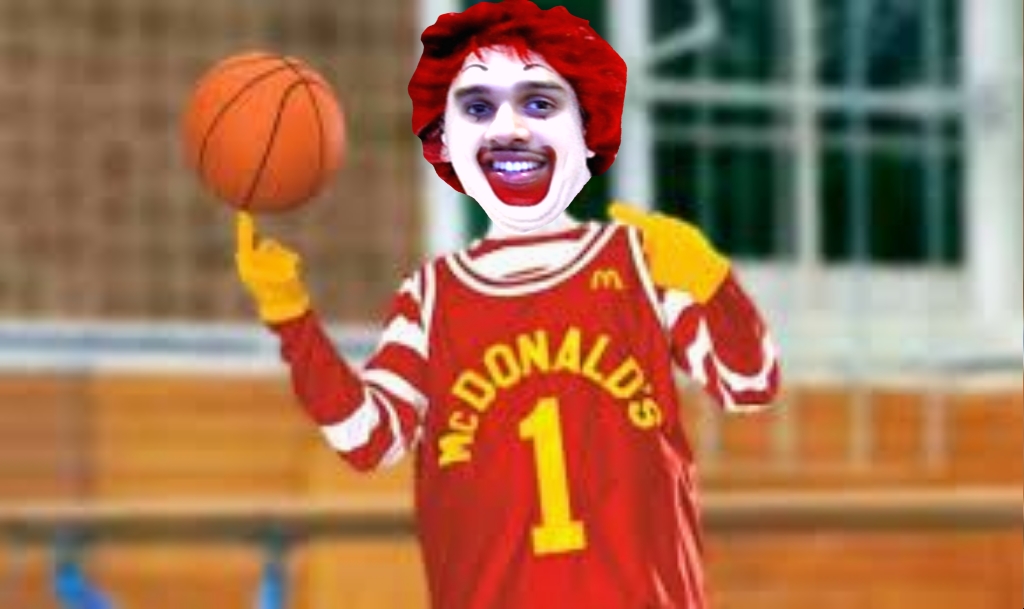 11. TIMBERWOLVES: How do you beat the T-Wolves??? Contest every shot Manveer takes and leave Baki wide open and just let him shoot. Pris seemed frustrated with the lack of touches on the court as he does have the potential to be one of the better players in ETBL (under the right system). Others have expressed frustration as well so Suthan will definitely be making a splash this Christmas and I feel that it will be a blockbuster one. He has been analyzing and researching and I think finally.....he will purchase a smartphone that has data and give up his Motorola Razor. GM's that may want to trade for Manveer and/or Baki will probably have better luck communicating with Suthan through carrier pigeons. Just gotta hope they land between Dec 17 and 19th.
12. MAGIC: I asked GM Wilbert how he managed to beat the Raptors and he replied "It was Magic!" and moonwalked away from me. It was more of a miracle that they pulled off that win because their defence is terrible (giving up 128 points in just 2 games). On the bright side, there appears to be no ego on this team as these guys do have great ball movement on offence and Nick Regis also appears to be warming up as he dropped 5 triples vs The Sixers. I do see these guys sneaking into the playoffs but no magic wand can save them from a first round elimination.
13. HAWKS: Disappointing start to the season by a team consisting of mostly childhood friends who have played basketball together their whole lives. Suhi Nada still remains optimistic about the Hawks playoff hopes but did indicate that he fears he will get the "you been traded" text from GM Patty during the Christmas Holidays. Until then, he will practice the wrong things every week with them. They might be one of the worst teams in the league but definitely have the best jerseys in ETBL this season.
14. LAKERS: The bright ass yellow jersey isn't the only thing that hurts my eyes when I watch these guys play. Imagine stepping on the court every game with the thought that you can potentially go the whole season without winning a single game. This is a living nightmare for GM Somi and his squad. However, there is light at the end of the rat hole as the Lakers first round pick Usamah Siddiqui(Uzi) is set to return from his hand injury in early 2019 but he is likely to get more suspensions for himself than wins for the Lakers. Fourteen is being generious.
15. RAPTORS: Davy Wong made his debut with a bang and dropped 25 pts and got his team their first win of the Season. I know that sounds amazing BUT they did this against the malnourished Lakers who were missing Uzi and Vinoth (First and Second rounders) so that doesn't say much about the Raptors. Their first Loss came against a Magic team who met each other for the first time minutes before tipoff. I'm not yet sold on these guys because it's 2018 and they are still playing like the 1995 Raptors.